Pinterest Pros & Cons for a Business
WHAT IS PINTEREST? Pinterest is a social networking site that allows you to organize and share images and videos you find on the Internet. According to Pinterest itself, it is a visual discovery engine for finding ideas like recipes, home and style inspiration and more.
Part of it's appeal is that it's beautiful. The Pinterest user interface is also extremely easy to learn.


An image, referred to as a "PIN," can be added from a website using the "Save" button, or you can upload images from your computer. When you discover Pins you love, you can save them to boards to keep your ideas organized and easy to find. These categorized collections are called pinboards. You can follow other users and share their content (by repinning).
Similar to Twitter, you can follow anyone, even if they aren't following you back.
Pinterest Profile Cover Example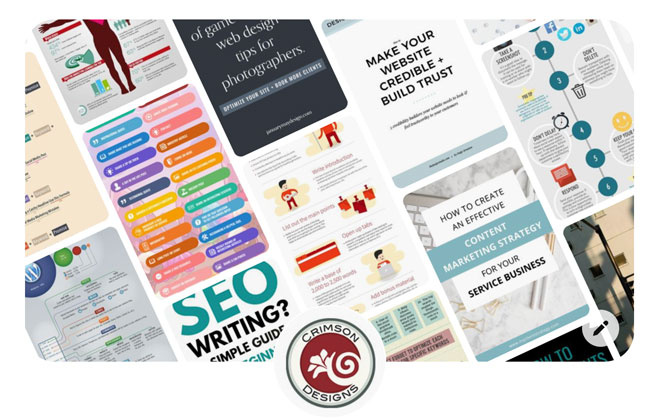 Pinterest Pros for a Business
PINTEREST REPORTED 400 MILLION ACTIVE USERS WORLDWIDE IN 2020.

Nearly one third of those users are from the United States.

47% OF PINNERS LOG ONTO PINTEREST TO SHOP.

It is four times more effective at generating sales than other social platforms.

BUSINESSES HAVE A UNIQUE OPPORTUNITY TO SHOWCASE THEIR PRODUCTS.

They can use the platform to provide inspiration to your target audience.

USERS TEND TO VISIT PINTEREST WHEN THEY WANT TO FIND SOMETHING.

Some use it as their default search engine.

52% OF MILLENNIALS ARE USING IT EVERY MONTH.

Pinboard Images are hyperlinked to their source.

This helps to drive traffic from Pinterest to external sites. Adding links to PINS makes it easy for a Pinterest user to find out more about that PIN, and potentially go on to make a purchase.

The half-life of a pin is 3.5 months.

(It takes a PIN 3.5 months to get 50% of its engagement.) The half life of a Facebook POST is only 90 minutes.

All boards are open.

Users can view any image pinned anywhere on the network. It involves the sharing of things rather than personal updates, making it easy to connect with strangers and similar businesses.

You don't have to leave comments.

You can just follow other users and repin images. It can be a fun experience, not a social media site where you feel pressured to stay involved.

THE AVERAGE TIME SPENT ON PINTEREST IS 14.2 MINUTES.

The amount of time you have to capture your customer's attention is growing.

You can sign up with an email address or an existing Facebook account.

You can also convert a personal account to a Pinterest for Business Profile.

YOU CAN USE PINTEREST ANALYTICS TO IMPROVE YOUR RESULTS.

Pinterest Analytics provides important information about what types of content is performing the best on the network. You'll be able to see which of your Pins are most popular and which drive the most traffic to your site.
Example of Pinterest Boards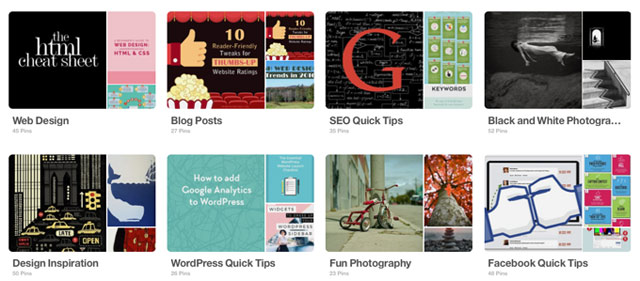 Pinterest Cons for a Business
Pinterest attracts a very specific audience.

 

It caters mainly to women (81%) between the ages of 25 and 50.

PINTEREST IS TIME-CONSUMING.

It is now putting the focus on FRESH content. You should be creating numerous new pins weekly.

Quality images are required.

Before joining Pinterest, brands need to assess whether they have high-quality, unique images to share. You can't create a post on Pinterest without an image. Pinterest now says that 1000 x 1500 pixels is the optimal size for a pinnable image. Website page speed is becoming a bigger issue.

PINTEREST MIGHT NOT BE FOR EVERY SMALL BUSINESS.

The types of businesses that do really well on Pinterest include: photographers, food-related businesses, wedding, fashion, beauty and travel-related businesses, design and decor businesses, home and garden businesses and professional bloggers.
5 Handy Pinterest Statistics [INFOGRAPHIC]